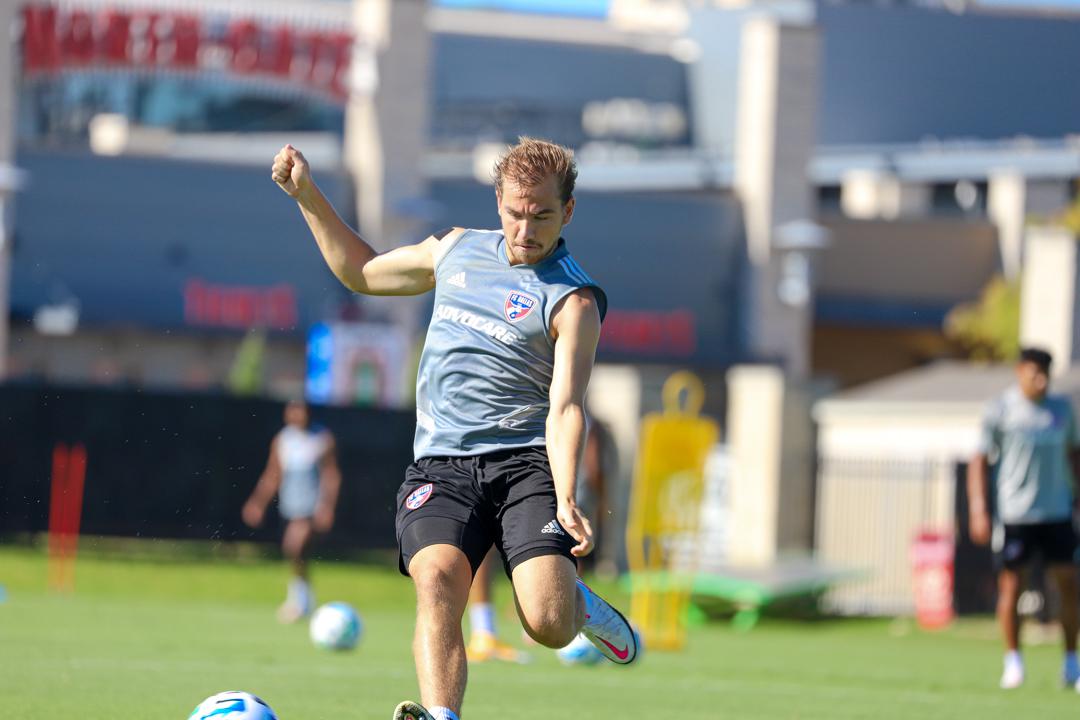 I've gotta be honest here. I'm not entirely sure what the game plan was for FC Dallas on Friday night in Houston, but I am sure that the only thing that worked out well against the Dynamo was the defense not giving up a goal. Poor execution, out game-planned, and questionable personnel choices made it hard to really understand what the goal was in this leg of the Texas Derby.
I Said It, I Meant It
At some point in the match, I tweeted "So far, it's looking like my tactics article for this game will just be highlights of Matt Hedges defending" So here's a few clips of Matt Hedges doing sly, understated, g.o.a.t.-y things on the night he passed Jason Kreis on the FC Dallas all-time appearance list.
Hedges gives away the ball with a bad pass, but then positions himself to cut off any non-sense from Houston. Then slides to force a throw-in instead of a corner. Best "scramble" defensemen in the league. pic.twitter.com/23nQobmRKT

— dtid_tactics (@DtidTactics) August 23, 2020
Hedges checks his shoulder, spots the runner at the top of the box, and positions himself to cut off both the pass and the shot pic.twitter.com/WMtfDQCJVs

— dtid_tactics (@DtidTactics) August 23, 2020
Switching It Up
But seriously, the only thing I took away from the first half was an increase in long horizontal balls (switches and diagonals) farther up the field. Rather than methodically attempting to switch the field by playing short passes along their defense, FC Dallas attempted to find space by working the ball down the sidelines and then having the opposite fullback run into the space vacated by shifting Houston midfielders. The Defensive Mids were also looking for the runs into this space, if it was there when the team gained possession.
Thiago Santos sends a long diagonal ball for Nelson, who's running into space in Houston's midfield pic.twitter.com/wDxYILfPGE

— dtid_tactics (@DtidTactics) August 23, 2020
Jara spots Cannon running into space on the opposite side of the field and switches horizontally pic.twitter.com/NzodiNhlmd

— dtid_tactics (@DtidTactics) August 23, 2020
Dynamic Substitutes
We all saw the difference that subbing on Fafa Picault, Brandon Servania, and Paxton Pomykal made in the match, and there two reasons.
Firstly, fresh legs. Fafa is likely the fastest player on the team barring Mikey Barrios, and Paxton is known for his relentless determination to get the ball forward. This combination created issues for Tab Ramos' side which only made one substitution the entire night (and not until the 83' at that).
Fafa Picault added to the team from his introduction. Here he tracked all the way back to the FCD goal line, forced a turnover, and then was almost involved in the transition with Jara pic.twitter.com/R6EHVUtI7R

— dtid_tactics (@DtidTactics) August 23, 2020
Secondly, quick decisive passing. Whether it was something Luchi adjusted or whether that's just how these players prefer to play, the result was a much more quick and decisive buildup. FC Dallas looked as if instead of "thinking about it" and waiting for other players to get into space, they played "one-touch" soccer and played the ball into the space their teammates were headed to.
Hedges plays a quick diagonal outlet to the sideline, then its a 1-touch combo into the Houston half and the break is on! pic.twitter.com/8of1HtHUTH

— dtid_tactics (@DtidTactics) August 23, 2020
Quickly pinging the ball through the midfield and then to Fafa in space for one of the best chances of the game for FCD (Barrios couldn't get on the end of it though) pic.twitter.com/F22I8QT9Tt

— dtid_tactics (@DtidTactics) August 23, 2020
Defensive Worries
This is the 3rd match in a row that Luchi Gonzalez has set up with a double pivot of Thiago Santos and Bryan Acosta in front of the defense. I've said it a few times now, but this pairing is a bit problematic. There's still not enough of an understanding between the two of them on who needs to cover the space in front of the back line, and when. Several times (again) the defense was left out on an island with dangerous opposition players having nothing but time and space to pick an attacking vector.
Santos cheats over to help out Cannon, Acosta doesn't shift (at least he's goal side of his marker) and then is slow to get into the open space in front of the defense pic.twitter.com/lDO1DRoN6g

— dtid_tactics (@DtidTactics) August 23, 2020
We can only hope that this pairing start working together better in the very near future, or sooner-or-later an opponent will make them pay.
Quick Play, Quick Turnaround
Luchi Gonzalez might not have much time between the next few matches to fully game-plan or script his side, and that might be a good thing. Now that the team has a few matches of experience implementing the tools that he wants, I would love to let the team loose on Wednesday against Colorado.