Just when the team and its fans thought they had put the 1st half of the August 3-3 draw with Montreal to bed, FC Dallas traveled to The Windy City to play the Chicago Fire. The result was one of the worst halves of soccer from FC Dallas in recent memory – conceding 4 unanswered goals in just 45 minutes. Unlike the Montreal match, however, FCD head coach Luchi Gonzalez and his team had no answers for what had been wrought upon them in the opening half of the match.
Often, teams can overcome mistakes or tactical misses with pure willpower and drive. For instance, the turning point in the Montreal match was when Zdenek Ondresek was subbed on in the second half. His will to win and passion for the team provided a much-needed spark for Gonzales' men.
There are other times when having the right tactics can make up for a team not turning up for a match. Teams eek out a win or a draw despite a lackluster performance.
When a team has neither intangibles nor tactics on their side, the result is never pretty. That is exactly what happened in Chicago to FC Dallas on Saturday afternoon. They lacked passion. They lacked heart. They lacked fight. And on top of it all, they got the tactics wrong.
Chicago opened the scoring in the 7th minute off of a comedic series of mistakes from Reggie Cannon, Matt Hedges, and Jesse Gonzalez. Cannon's back pass wasn't strong enough, Hedges gave up on it assuming it would reach Gonzalez, and Gonzalez didn't attack the ball to deny CJ Sapong the interception.
This seemingly killed any desire or belief from FC Dallas as they never really threatened after.
What's more, Chicago's game plan worked flawlessly. Invite pressure, then exploit the space vacated by FC Dallas' fullbacks after they push forward. Chicago's passing charts show this strategy with all of the passes to the sides of FC Dallas' box.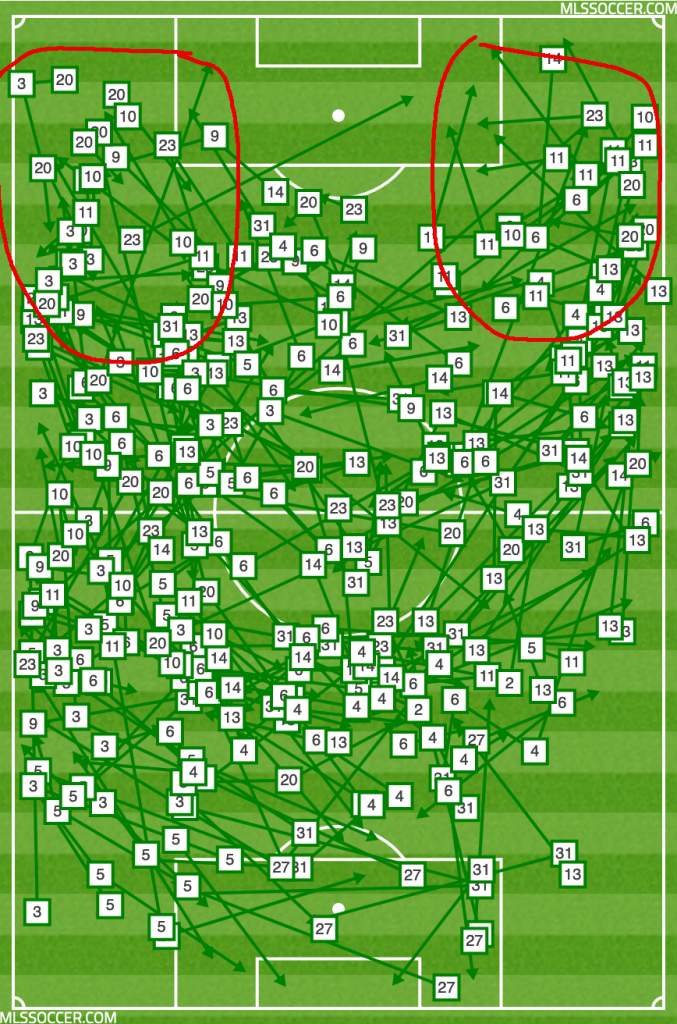 Here, player selection might have also played into Chicago's hand. With Bryan Acosta suspended due to yellow card accumulation, Coach Gonzales opted to play rookie Edwin Cerrillo in the defensive midfield role, a player who hasn't played with the first team since June 30th in a 1-0 loss at Portland.
This lack of familiarity kept centerbacks Matt Hedges and Reto Ziegler from feeling comfortable enough to drift wider in defense to fill the voids left by the fullbacks. In the past, Bryan Acosta's cover in the middle freed the centerbacks to be more proactive in meeting the ball away from the box.
To Gonzalez's credit, he made halftime adjustments by bringing on Brandon Servania to aid Cerrillo, but by then the damage had been done.
You can see the adaptation in their 2nd half defensive actions, but this came at the expense of being able to push forward and penetrate into Chicago's final 3rd.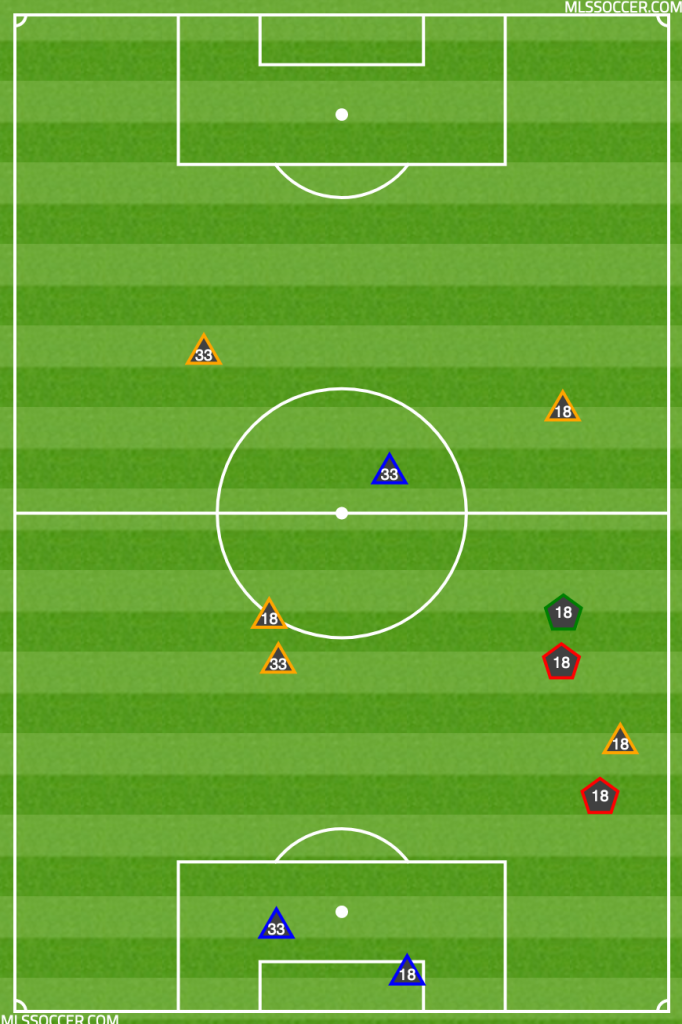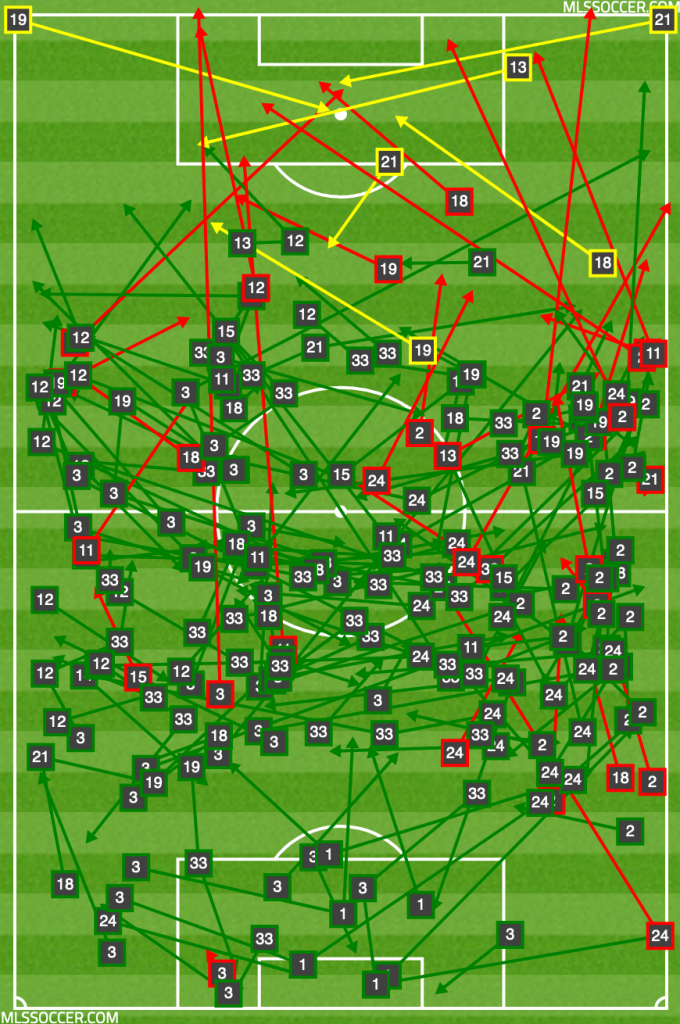 Saturday afternoon's defeat to Chicago was the perfect storm of things that could go wrong for a team and fans should rightfully be upset. Misses on both tactics and turn-up are unacceptable, even for homegrowns and first-year coaches.
There are many lessons to be had for Luchi Gonzalez and his squad, but at some point those lessons need to yield results. With only 4 matches left in the season and playoffs on the line, that time is now for FC Dallas.